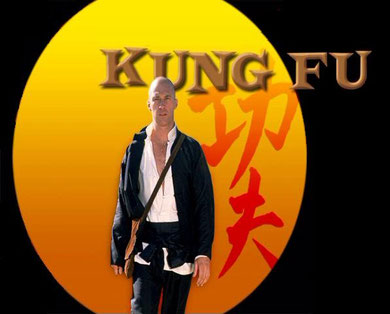 Kung Fu série américaine composée d'un pilote de 70 minutes et 62 épisodes de 52 minutes, créée par Ed Spielman en 1972. En France elle a été diffusée à partir du 13 avril 1974 sur la deuxième chaîne.
David Carradine : Kwai Chang Caine
Keye Luke : Maître Po
Philip Ahn : Maître Kan
John Leoning : Maître Teh
Radames Pera : Caine enfant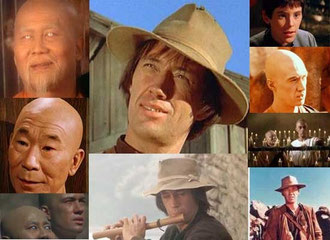 Première saison (1972-1973)
Épisode pilote (Kung Fu)
La Loi de la montagne (King of the Mountain)
L'Ange noir (Dark Angel)
Frères de sang (Blood Brother)
Œil pour œil (An Eye for An Eye)
(Récompensé par 2 Emmy Awards)
L'Âme du guerrier (The Soul is the Warrior)
Neuf Vies pour une (Nine Lives)
La Marée (The Tide)
Ombres sur le soleil (Sun and Cloud Shadow)
La Mante religieuse (A Praying Mantis Kills)
Alethea (Alethea) Guest star : Jodie Foster
Enchaînés (Chains)
Superstition (Superstition)
La Pierre (The Stone)
Le Troisième Homme (The Third Man)
Le Vieux Guerrier (The Ancient Warrior)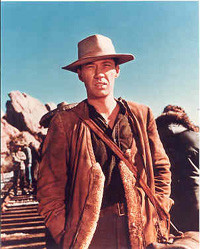 Deuxième saison (1973-1974)
Le Puits (The Well)
L'Assassin (The Assassin)
Le Calice (The Chalice)
Le Sorcier (The Brujo)
L'Esprit du Bien (The Spirit Helper)
L'Indienne (The Squaw Man)
La Salamandre (The Salamander)
Les Tongs (The Tong)
Le Baptême du feu (The Soldier)
Les Hiboux (The Hoots)
L'Élixir (The Elixir)
Le Chasseur de primes (The Gunman)
L'Esprit de la loi (Empty Pages of a Dead Book)
Le Pendu (A Dream Within a Dream)
Les Chemins de la violence (The Way of Violence Has No Mind)
Les Fourmis (In Uncertain Bondage)
La Nuit des hiboux (Night of the Owls, Day of the Doves)
Le Serment (Crossties)Guest star : Harrison Ford
Le Grand Amour de Chen Yi (The Passion of Chen Yi)
La Sentence (The Arrogant Dragon)
Pour une poignée d'or (The Nature of Evil)Guest star: John Carradine
Le Cénotaphe [1/2] (The Cenotaph [1/2])
Le Cénotaphe [2/2] (The Cenotaph [2/2])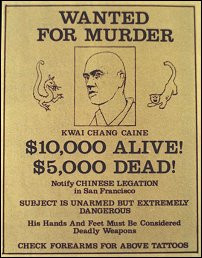 Troisième saison (1974-1975)
Un cri dans la nuit (Cry of the Night Beast)
Frères de cœur (My Brother, My Executioner)
Au-delà de la peur (The Valley of Terror)
Le Pardon (A Small Beheading)
Les Rapaces (The Predators)
L'Image fugitive (The Vanishing Image)
Le Sang du dragon [1/2] (Blood of the Dragon [1/2])
Le Sang du dragon [2/2] (Blood of the Dragon [2/2])
Le Dieu démon (The Demon God)
Duel à mort (The Devil's Champion)
L'Habit de la vengeance (The Garments of Rage)
Le Temple assiégé [1/2] (Besieged [1/2])
Le Temple assiégé [2/2] (Besieged [2/2])
L'Agneau du sacrifice (A Lamb to the Slaughter)
La Porte des ténèbres (One Step to Darkness)
Le Prince des voleurs (The Thief of Chendo)
L'Hymne à la lumière (Battle Hymn)
Le Royaume interdit (The Forbidden Kingdom)
Le Dernier Raid (The Last Raid)
La Fiancée aux lingots (Ambush)
Jeux barbares [1/2] (Barbary House [1/2])
Jeux barbares [2/2] (Flight to Orion [2/2])
Les Frères Caine (The Brothers Caine)
Le Point de départ (Full Circle)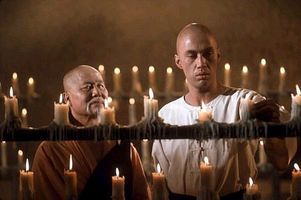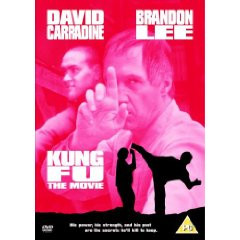 Kung Fu : The movie est un téléfilm de 1986  qui est une suite de la serie Kung fu. Le rôle de Caine est repris par David Carradine. Le rôle de son fils, Chung Wang, est interprété par Brandon Lee, qui fait ses début d'acteur. Le rôle du maître PO est également repris par Keye Luc et le Manchu est interprété par Mako (Makoto Iwamatsu).
KUNG-FU THE NEXT GENERATION
(1987)
KUNG FU, LA LEGENDE CONTINUE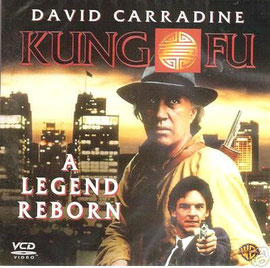 La série Kung Fu, la légende continue (Kung Fu: The Legend Continues) met en scène les aventures du petit-fils de Kwai Chang Caine, héros de la 1er série
qui porte le meme nom, et de son fils, Peter Caine, lieutenant de police. Elle se compose d'un pilote de 90 minutes et de 86 épisodes de 45 minutes, en france elle fut diffusée ( n'importe comment) par France 2 à partir de 1994.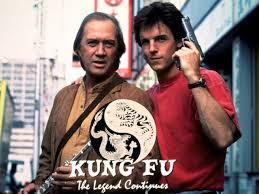 Première saison (1993)
L'Initiation [1/2] (Initiation [1/2])
L'Initiation [2/2] (Initiation [2/2])
L'Assassin de l'ombre (Shadow Assassin)
Un dimanche à l'hôtel (Sunday at the Hotel with George)
La Confiance (Sacred Trust)
La Force de l'habitude (Force of Habit)
Rien ne va plus (Pai Gow)
Le Défi (Challenge)
Les Disciples (Disciple)
Une longue amitié (Rain's Only Friend)
La Cachette (Secret Place)
L'Œil du dragon (Dragon's Eye)
Le Sixième Sens (Blind Eye)
La Boîte mystérieuse (The Lacquered Box)
Illusion (Illusion)
La Camisole (Straitjacket)
Réunion (Reunion)
L'Aile du dragon (Dragonswing)
L'Héritage (Shaman)
Le Jardin de roses (I Never Promised You a Rose Garden)
Le Pardon [1/2] (Redemption [1/2] )
Le Pardon [2/2] (Redemption [2/2] )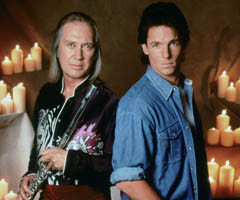 Deuxième saison (1994)
Le Retour de l'assassin fantôme (Return of the Shadow Assassin)
Une journée dans la vie d'un flic (May I Ride with You)
La Fille du dragon (Dragon's Daughter)
Le Billet gagnant (An Ancient Lottery)
L'Amie de Laurie (Laurie's Friend)
Le Temple (Temple)
La Loi du plus fort (Only the Strong Survive)
La Traque (Out of the Woods)
Le Tournoi (Tournament)
Voyage dans l'au-delà (The Bardo)
Le Possédé (The Possessed)
Le Mystère (Warlord)
Innocent (The Innocent)
Tour de magie (Magic Trick)
Les Facettes de l'âme (Aspects of the Soul)
Kundela (Kundela)
La Bande (The Gang of Three)
Les Chiens de l'enfer (Sunday at the Museum with George)
L'Échiquier (Dragonswing II)
L'attaque du tigre (Sing Wah)
Lâchez le tigre (Enter the Tiger)
Le Départ (Retribution)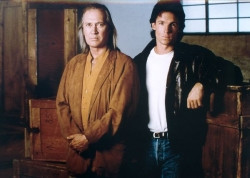 Troisième saison (1995)
Rite de passage (Rite of Passage)
La Peste (Plague)
Une journée de repos (May I Walk with You)
Le Retour (The Return of Sing Ling)
Erreur sur la personne (Manhunt)
Futur en danger (Gunfighters)
Un meurtre mystérieux à Chinatown : La Main empoisonnée (A Chinatown Murder Mystery: The Case of the Poison Hand)
La Cible (Target)
Votez Caine ! (Citizen Caine)
Tremblement de terre (Quake !)
Au revoir M. Caine (Goodbye, Mr. Caine)
Le Calice sacré d'I Ching (The Sacred Chalice of I Ching)
Une ancienne connaissance (Eye Witness)
Démons (Demons)
Haute couture (Deadly Fashion)
Missiles de croisière (Cruise Missiles)
La Promesse (The Promise)
Cercle de feu (Flying Fists of Fury II: Masters of Illusion)
Visions
À guichets fermés (Banker's Hours)
Cercle de feu (Kung Fu Blues)
La Fraternité du bourdon (Brotherhood of the Bell)
Destinée (Destiny)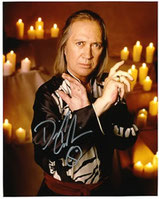 Quatrième saison (1996/1997)
Visions (Dark Vision)
Le Premier Temple (The First Temple)
La Voix de la raison (Circle of Light)
Le Prisme (Prism)
La Veuve noire (Black Widow)
Cercle de feu (Shaolin Shot)
Le phoenix (Phoenix)
Les Forces spéciales (Special Forces)
Le Jeu du dragon (Dragon's Lair)
Le Prix des larmes (Veil of Tears)
À mourir de peur (Chill Ride)
L'Évasion (Escape)
Qui est Kwai Chang Caine ? (Who Is Kwai Chang Caine?)
Avis de tempête (Storm Warning)
Le Trésor Shaolin (A Shaolin Treasure)
Le Roi de la glace (Dark Side of the Chi)
L'Entre-deux mondes (Ancient Love)
Panne générale
Trahison et rancune (Blackout)
Les Prisonniers du temps (Time Prisoners)
Requiem (Requiem)
Un Noël shaolin (A Shaolin Christmas)
Trahison et rancune (May I Talk with You?)